Chaotic, foul-mouthed and a lot of fun - last night's
The Burglar's Dog
Pub Quiz was a very fitting way to launch our latest book. The venue was the Newcastle Arms, the Dog's favourite bar - and one of the few he doesn't slate in the book. It was standing room only and clipboards and biros at the ready as 16 teams did battle over three very taxing rounds.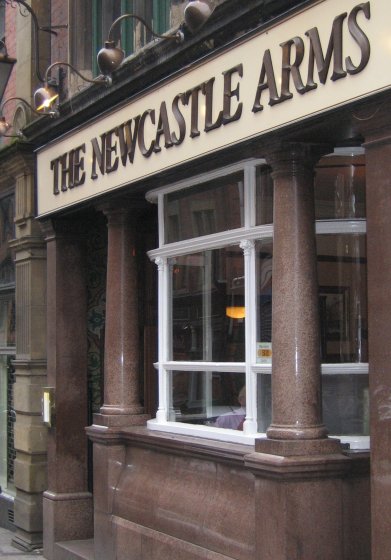 Image from www.theburglarsdog.co.uk. We forgot to take a camera, so if anyone has any digital photos of the event please email them over!
There were hiccups, naturally. Compere Phil Hoffmann managed to read just one solitary question before the PA system packed in. Not to be defeated, Phil leapt onto a chair and delivered the rest of the quiz in very loud voice. The general knowledge round was mindbending (Sample question: 'What is the combined number of whole legs owned by Paul McCartney's wives?' Answer: Three), and the picture and music rounds were extremely testing, but by the end there were three teams tied in first place with 41 points out of 60. A quick tie-breaker saw one lucky team walk away with a 'Geordie Hamper' containing Brown Ale, stottie cakes, pease pudding, pickled onions and black bullets. What a result.
Thanks to everyone who came along and took part in the quiz, and bought books and badges. Special thanks to Phil Hoffmann for doing a great job as compere in testing circumstances. Thanks also to Burglar's Dog author Mark Jones and Burglar's co-pilot John Egdell for helping organise and run the night, and to the staff at the Newcastle Arms for serving up the booze.
The Burglar's Dog
is available from all good bookshops. Get more details
here
.